Paul Kirk CWC, Ph.B., B.S.A.S.
The Baron of BBQ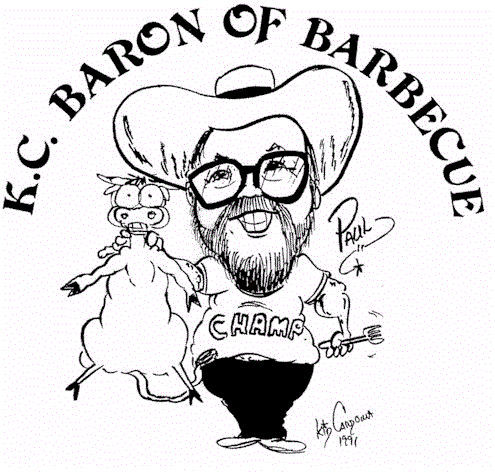 Chef • Competitor • Teacher • Author
Chef Paul Kirk is an award-winning competitive Pitmaster, restaurant chef, cooking instructor, and author of BBQ cookbooks.
He is a Certified Working Chef (CWC). He has served on the Board of Directors of the Kansas City Barbeque Society (www.KCBS.us) and has been certified as a Master Barbecue Judge. Also... from the Kansas City Barbecue Society's Remus Powers' Greasehouse University, Paul has received a Doctor of Barbecue Philosophy (Ph.B.) and a Barbeque Science degree the B.S.A.S.
Chef Paul is also known as the Kansas City Baron of Barbecue and is recognized as one of the most accomplished barbecue chefs and pitmasters in the world.
The family that barbecues together…
Paul grew up in a large family with seven siblings. His father often had guests over for his barbecued ribs, chicken and pot luck. He simply grew up surrounded by barbeque. While he was a chef at a Road House he served breakfast, lunch and dinner, with barbecued steak and fried chicken. During that time he began creating many of his own original recipes.
Competing and Winning
Chef Paul has won countless awards and is a seven-time world champion!
His first barbeque competition was at the American Royal BBQ where he entered two contest categories: chicken and ribs. Although he faced several setbacks trying to get to the contest and then faced other unforeseen challenges, he made it through and won first in chicken and second place in ribs BBQ! He was off to a great start and went on to world championships and many other accolades of distinction.
He is the recipient of over 400 cooking awards, including champion of the American Royal Open (the largest barbecue competition in the world) and seven World Barbecue Championships. Some of the championships include: Jack Daniel's World Championship Invitational Barbecue, American Royal International Invitational, World Brisket Championship, and the Great Pork BarbeQlossal.
In 2015 Chef Paul was inducted into the Barbecue Hall of Fame in the Pitmaster category. Julia Child recruited Chef Paul in 1998 and 2000 for the Julia Child BBQ Team of Ten. The "team" prepared a barbecue to raise funds during the annual convention of the International Association of Culinary Professionals for the The Julia Child Foundation for Gastronomy and the Culinary Arts.
---
BBQ Cooking Class Instructor
His Teaching Philosophy: teaching people to identify and cook with their own flavor profile.
In addition to his competitions and prestigious awards, Chef Paul conducts The Baron's School of Pitmasters, a truly international school, which has held classes across the United States, Ireland, Canada, South Korea and Switzerland. He is also one of the featured chef instructors at the Q-School smoker cooker classes hosted by Lang BBQ Smokers.
His Lang smoker cooker classes cover the basics of:
Barbecuing Brisket
Pork Butt and Pork Ribs
Chicken
Sausage
BBQ rubs and sauces
Fire management
BBQ fuels
and Contest presentation
It's about seeing students be successful
Among his many gratifications is teaching BBQ and seeing students be successful. It's been calculated by some that 85 percent of the ribbons won at the American Royal were won by his students, and many have gone on to open BBQ restaurants. Paul always advises those who want to enter competition BBQ to visit contests, meet BBQ teams, ask if you could spend some time learning from them and try to get on a team.
more information about Q-School smoker cooker classes on www.LangBBQcookingClass.com
BBQ CookBook Author and Recipe Creator
Paul Kirk has authored or coauthored twelve barbeque books 12 barbecue books and he writes monthly columns in multiple digital and print BBQ publications. His most recent book is "America's Best BBQ" which he coauthored with Ardie Davis Ph. B. You can purchase his books on Amazon.
Chef Paul has also shared some of his recipes on our Lang Recipe Blog.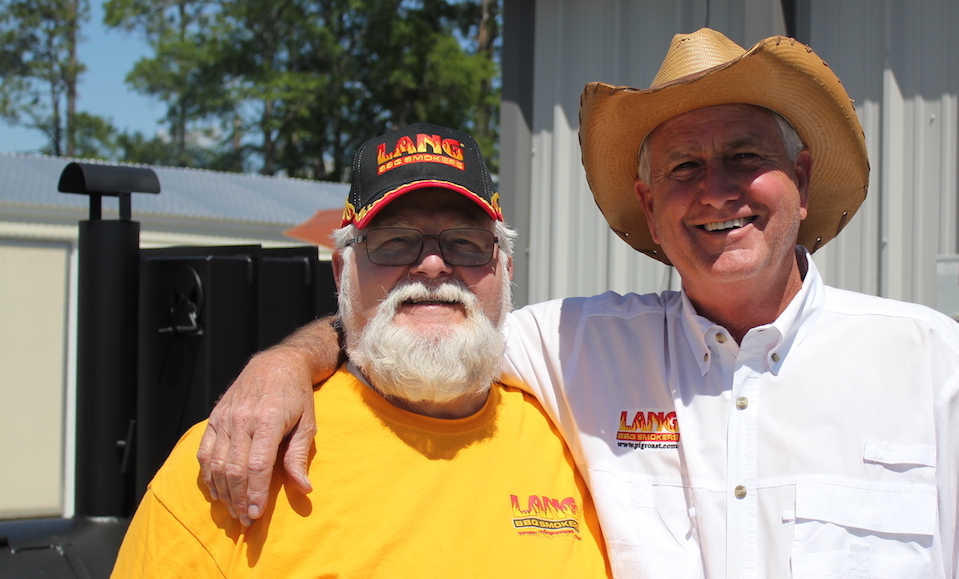 Grill with the best and learn from the best
Lang BBQ Smokers offers the best smoker cookers and the best training by top pros like Chef Kirk. Want to learn more about smoker cooking from the best? Try one of Chef Paul Kirk's classes at our Q-School. The class is suited for backyard BBQ enthusiasts, seasoned barbeque competitors, and those considering opening a BBQ business, catering, mobile restaurants and other types of barbeque joints.
Join our Mailing List below to get notified when a Q-School smoker cooker class is announced.
Thank you to Chef Paul Kirk for cooking on a Lang BBQ Smoker, competing, and winning!!!!