Lang BBQ Competition Team
Darryl Strickland and Matt Lee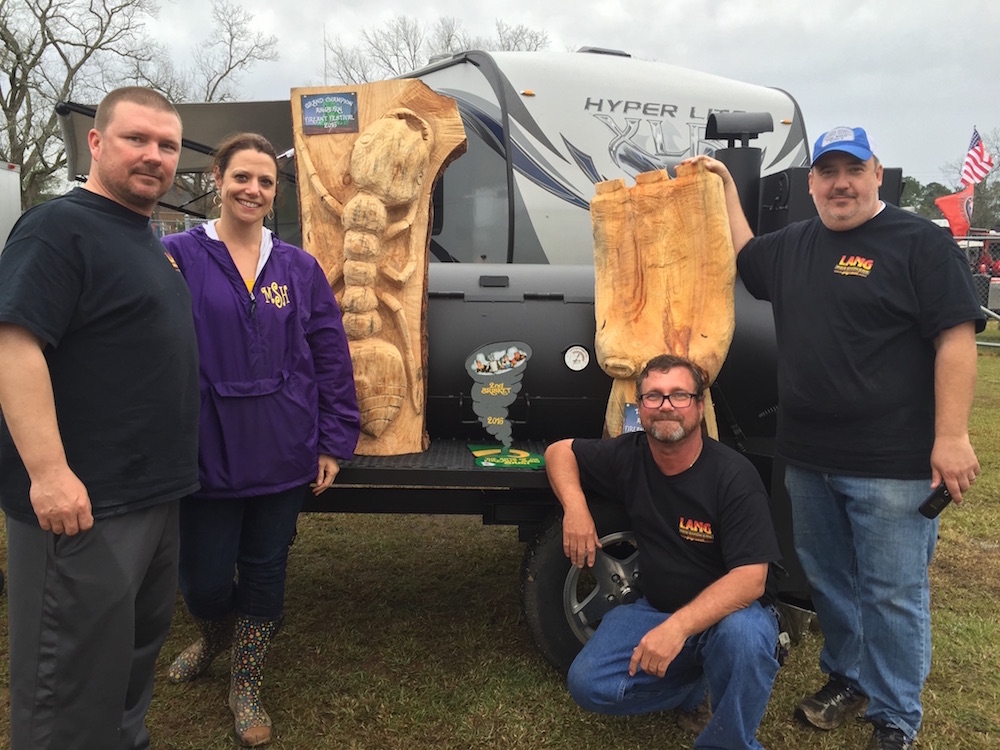 Competitions Plus!
The 2016-2017 Lang BBQ Competition Team was formed of friends and family that live and work near the Lang BBQ Smokers factory.
The team consisted of Darryl Strickland, Matt Lee, Jason Strickland, and Mechelle Strickland. Darryl Strickland is the team captain. The team has been traveling to competitions in the south eastern USA to compete in various smoker cooker cook-offs and they've won more than a few trophies.
Plus ... Darryl and Matt have been the pitmaster chefs of some Q-School smoker cooker cooking classes hosted by Lang BBQ Smokers.
Competing and Winning
As the official Lang BBQ Competition Team they travel with some beautiful Lang BBQ Smokers in this hot travel rig.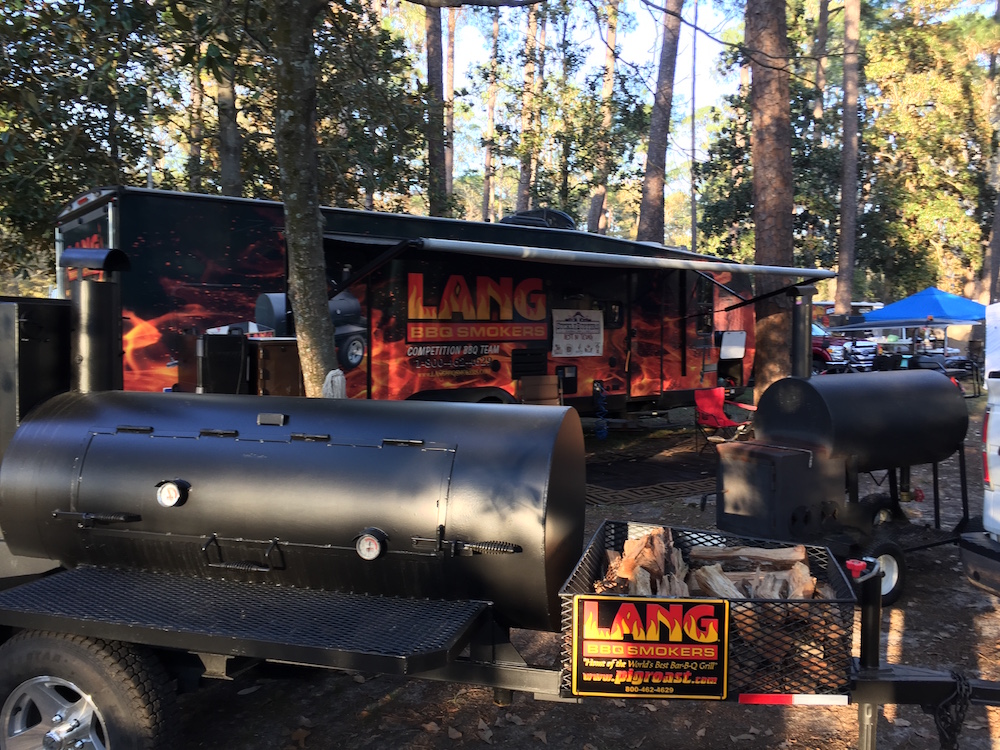 ---
Grand Champions 2016 Fire Ant Festival BBQ Bash
The Georgia Barbecue Association (GBA) and a host of heavy hitters from Florida traveled up to Ashburn, GA. That's where the 2016 Fire Ant Festival BBQ Bash took place.  Known for its wacky and off the wall activities, the festival offers family oriented fun for all ages. Activities include the fire ant calling contest, the giant fire ant maze, carnival, arts and crafts, fireworks, bands, photo contest, art contest, health fair, BBQ cook off, and much more!  
There were 35 teams prepped and ready to compete with their BBQ skills and techniques. Despite the on and off rain over the competitive weekend, everyone worked their BBQ tails off making their smoking magic. Lots of talents made for hard work for the Bash competition. When it came down to the finals, the judges really had it tough, judging the top three entries of each BBQ category.
Big Smoke. Big Trophies.
The Fire Ant Festival Bash is known for likely presenting the biggest (physical) trophies in BBQ competition. (Take a look at the photo above.) The wooden awards are carved out with a chain saw. The awards presented for Grand, Reserve, and 1st place in each category weighed over 100 pounds.
When the smoke cleared only two remained. Only two teams remained the game for the Grand Championship by the end of the day.  Thomas Henry of Budmeisters BBQ had won both the Loin & Pulled Pork categories.  Lang BBQ Smokers, led by Darryl Strickland made the top team in Ribs.  The final votes awarded the trophy to Ribs and Lang BBQ Smokers for the Grand Championship with a fat check for $2500.
Instructors for the 2016 and 2017 Summer Q-School!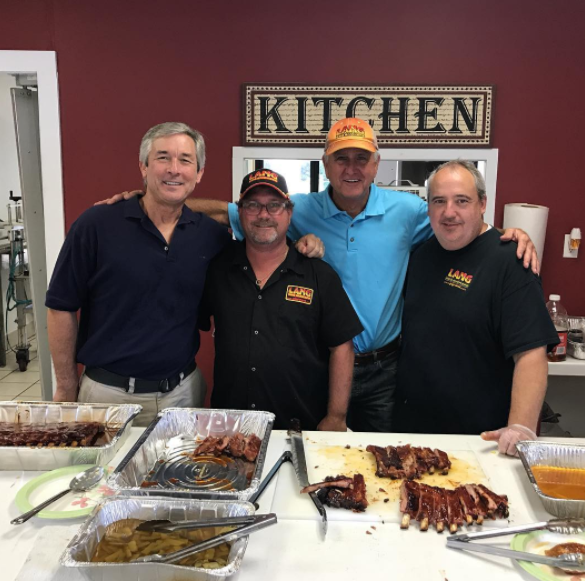 In June of 2016 Matt Lee and Darryl Strickland participated as instructors for Q-School classes. Each full day class included hands-on-instruction. Matt Lee, an owner of a BBQ joint in Blacksheer, GA specialized in teaching how to cook HOT & FAST on a smoker cooker (something that comes in mighty handy when running a restaurant and competing in cook-offs.). The duo joined forces with TV personality Bruce Mitchell the Gator Man from Swamp People.
In August of 2017 Matt and Darryl instructing two Q-School classes to help competitors take it to the next level! They are photographed to the right with Ben Lang and one of the students. Both Darryl Strickland and Matt Lee returned to 2019's Summer class with Ben Lang to offer two classes - All Around BBQ, Competition and Commercial BBQ Cooking Hot and Fast, as well as Whole Hog Cooking Hot and Fast.
Matt Lee is also featured in the commercial chefs section. Find out more about his Smoke Rising BBQ Joint in Georgia.
Thanks to the 2016-2017 Lang BBQ Competition Team for competing and winning!!!!